Oaks of Hebron
A Christian non-profit agency providing residential, support services, a day program, and recreational services for persons with developmental disabilities.
We are a vendored agency of North Bay Regional Center, which is the local organization that receives funds from the California Department of Developmental Services. We provide services to any person referred to us through the Regional Center. Individuals and families seeking services may request Oaks of Hebron as their service provider through the regional Center.
Our name comes from a reference in Genesis 13:16 and 18:1-5 where God sent three angels to Abram while he was at the great oaks of Mamre at Hebron. Abram was obedient in caring for the needs of these men whom he did not know. In the same way, Oaks of Hebron, Inc. desires to meet the needs of people with developmental disabilities by caring for the complete person through word and deed.
Our full-time staff is made up of men and women who have a personal relationship with Jesus Christ. We attend several different churches throughout Sonoma County, California. Although we are a Christian agency we do not impose our personal beliefs upon those we serve. We believe that our personal convictions are an asset in providing care and compassion to those we are called to serve regardless of their own beliefs.

Supported Living Service
Oaks of Hebron's services focus on the unique needs of each person we serve. We place emphasis on expanding the individual's ability to function fully in their communities and promote their self-esteem. We feel the best way to accomplish this is by establishing quality residential services and community outreach.
Supported/Independent Living provides support to adults within the community that reside in regular housing. Persons may live with one-on-one assistance or have almost total independence with only periodic monitoring. The individual's future plans are tailor-made to fit his or her unique needs.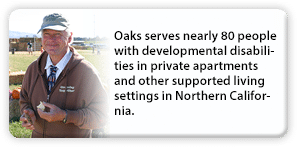 People are visited in their homes. They have someone who helps them do whatever needs to be done for them, i.e. balancing their checkbook, menu planning, communicating more effectively with roommates, etc. Keeping them busy and active with friends is also a big part of what is done. Our residential services include supported living options. All services promote a safe caring environment while teaching self-advocacy and independent living skills.
wp_clg1jx
Friday, September 22nd, 2017  at Bennett Valley Golf Club, Santa RosaSign-Up Here & Choose A PackageOaks Annual Fundraising Event will supply much-needed funds to enhance the services that we provide for adults with special needs.Schedule [...]
wp_clg1jx
Quite often the question is asked as to how things are going at Oaks.  It's relatively easy to give a general answer about the current state of services.  It takes much more time to [...]
wp_clg1jx
Working at a job, vocation or career is one of the critical pieces for most of our lives. A job provides income that we need to pay for our basic needs such as food, [...]
A Message From Stan Higgins, Executive Director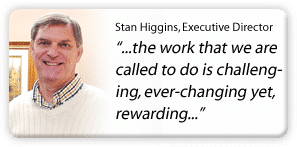 In July of 1998, I was privileged to assume the role of Executive Director at Oaks. It is a wonderful experience to work with the many committed staff and loving clients whom we serve. Many times over I have been impressed with the very special ministry, which we are able to fulfill by God's grace. The work that we are called to do is challenging, ever-changing yet, rewarding as we see lives touched with compassion.
I believe that we are able to assume a unique niche among those providing services to the disabled community. I invite you to get to know us better and find out how you can be a part of a terrific group of people at Oaks of Hebron.  For additional information, see our F.A.Q.
– Stan Higgins, Executive Director