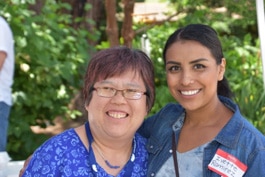 Each year, Oaks of Hebron gives scholarships/internships to people who are pursuing higher education with the hope that the opportunity will broaden their understanding of ministry to people with disabilities and that the recipient makes a commitment to pursue working with people with disabilities throughout their career.
Oaks is pleased to announce this year's recipient of the Kranz Scholarship is Ivette Ramirez.
Ivette started working at Oaks of Hebron more than three years ago as a PA and now as a CSF. This year, Ivette graduated with an AA Degree from Santa Rosa Junior College and will begin classes at Sonoma State University in the fall. Ivette is the first in her family to graduate from college and she's very ex­cited about her future. With her degree, Ivette plans to continue working with people with developmental disabilities, adults and children and possi­bly those with mental illness.